Posts for: February, 2018
By Peter M. Soloman DDS, PC
February 16, 2018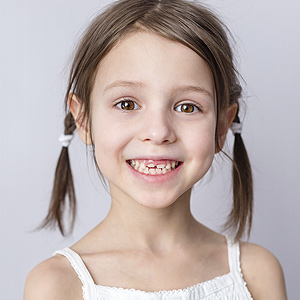 At no other time in a person's life will their teeth and mouth change as rapidly as it will between infancy and adolescence. In this short span an entire set of teeth will emerge and then gradually disappear as a second permanent set takes its place.
While the process may seem chaotic, there is a natural order to it. Knowing what to expect will help ease any undue concerns you may have about your child's experience.
The first primary teeth begin to appear (erupt) in sequence depending on their type. The first are usually the lower central incisors in the very front that erupt around 6-10 months, followed then by the rest of the incisors, first molars and canines (the "eye" teeth). The last to erupt are the primary second molars in the very back of the mouth just before age 3. A similar sequence occurs when they're lost — the central incisors loosen and fall out around 6-7 years; the second molars are the last to go at 10-12 years.
A little "chaos" is normal — but only a little. Because of the tremendous changes in the mouth, primary teeth may appear to be going in every direction with noticeable spaces between front teeth. While this is usually not a great concern, it's still possible future malocclusions (bad bites) may be developing. To monitor this effectively you should begin regular checkups around the child's first birthday — our trained professional eye can determine if an issue has arisen that should be treated.
Protecting primary teeth from tooth decay is another high priority. There's a temptation to discount the damage decay may do to these teeth because "they're going to be lost anyway." But besides their functional role, primary teeth also help guide the developing permanent teeth to erupt in the right position. Losing a primary tooth prematurely might then cause the permanent one to come in misaligned. Preventing tooth decay with daily oral hygiene and regular office visits and cleanings (with possible sealant protection) is a priority. And should decay occur, it's equally important to preserve the tooth for as long as possible for the sake of the succeeding tooth.
Your child's rapid dental development is part of their journey into adulthood. Keeping a watchful eye on the process and practicing good dental care will ensure this part of the journey is uneventful.
If you would like more information on the process of dental development in children, please contact us or schedule an appointment for a consultation. You can also learn more about this topic by reading the Dear Doctor magazine article "Dentistry & Oral Health for Children."
By Peter M. Soloman DDS, PC
February 01, 2018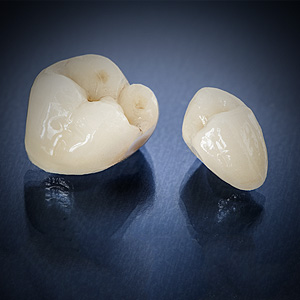 Repairing a decayed tooth may be as simple as removing the damaged tooth material and filling the void. Many filling materials can now match the color of a tooth, so the dental work is hardly noticeable.
Sometimes, though, the decay is too extensive or we've treated the tooth several times and it won't support another filling. If the tooth is still viable, we may be able to cover it with a custom crown.
Also known as a cap, a crown fits over and is securely affixed to the tooth with bonding material or cement. Crowns have been used for decades to restore teeth, but the materials they're made of have changed with time.
The original crowns were made of metal, usually gold or silver. They were strong and could hold up well to the daily forces produced by chewing or biting. They did, however, visually stand out and came to be regarded as unattractive. There were porcelain materials available that could closely mimic the life-likeness of teeth, but they could be weak and brittle.
Dentists came up with a hybrid crown that could supply strength as well as an attractive appearance. These were composed of two parts: an inner metal frame for strength overlaid with porcelain for appearance. These fused crowns were the most popular until the mid-2000s.
About that time, newer forms of porcelain came on the market that were not only attractive, but also durable. Although caution should still be taken when biting something hard, they've proven to stand up well to biting forces. Fused porcelain to metal is still in use, but usually for back teeth where biting forces are higher and the crown won't be as noticeable as on front teeth.
Crowns can also address cosmetic issues with chipped, fractured or excessively worn teeth. But with any crown you should be aware that much of the original tooth material must be removed to accommodate the fit. The altered tooth will require a crown or other restoration from then on. Crowns must also be custom-made by a dental technician in a process that can take weeks.
Still, the process can be well worth it. With proper care and maintenance, a crown could serve you and your smile well for many years to come.
If you would like more information on crowns and other restoration options, please contact us or schedule an appointment for a consultation. You can also learn more about this topic by reading the Dear Doctor magazine article "Crowns & Bridgework."